Writing Women on the Devon Land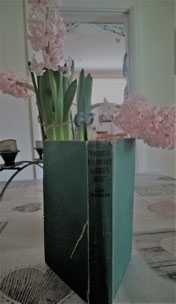 Writing Women on the Devon Land, begun early 2017, was and is a spin-off from my original blog Scrapblog a Writer from the South-West. 
Although the latter is a blog that could continue indefinitely, I felt I wanted to focus more on the specifics of the non-fiction book I'm still trying to find a publisher for, whose subject is the lost history of Devon Women Writers. Please head over there now, if you're interested to find out more. 
 Photo; cover of There's Rosemary There's Rue, by Winifred Fortescue. Photo Julie Sampson.
(See F ... for Filleigh, on blog, for more information).
A few photos that appear on the blog...