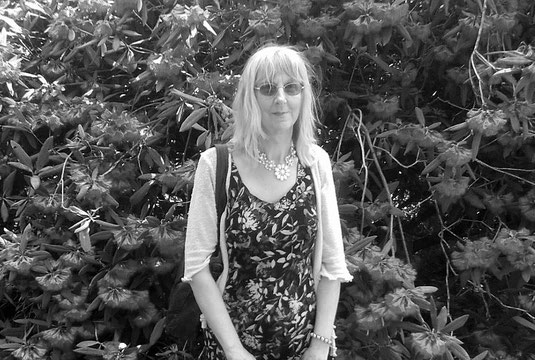 Julie Sampson
Independent Writer and Poet
         I am an independent writer and poet. My main project currently is the completion of a non-fiction book on the subject of Devon's women writers. This is my main website. You will find various links to other sites that I've developed and details of texts and poems I have published. 
        See also Writing Women on the Devon Land  a new blog about the book I am currently completing.
        There is also a related blog, at Scrapblog From the South-West.
          Both blogs focus on women writers and their links with Devon.
Noting the Ns in North Tawton
(Wed, 13 Jun 2018)       
Writing Women on the Devon Land A-Z of Devon Women Writers & Places  Noting the Ns in North Tawton 
View from beside river Taw at North Tawton toward Cosdon Photo Julie Sampson        
North Tawton
, my Devon parish of choice for 'N' in this alphabet, will often feature on this blog. You will already find the parish mentioned in its introductory pages and at least one other post. This small central Devon town, the place of my childhood years, is anchor for my book about Devon's women writers. It has to be the parish of choice for this A-Z, although I could have picked out several other 'Norths', such as North Molton, North Lew or North Bovey, or other N's, such as Newton Abbot, Newton St Cyres ... For this letter, unlike some, I was spoilt for choice.       Sadly, during the last few weeks, when I have been reflecting on this blog piece, a prominent member of the contemporary North Tawton community has passed away. I  want therefore firstly to join in the tributes to
Dr JeanShields
, an acquaintance, a family friend of my late parents and of my uncle, whose invaluable, painstaking and rigorous research and writing about local history over a period of many years has provided the community with a wealth of invaluable historical material relating to North Tawton and beyond to many other Devon places. Amongst many other achievements - including those attained in her other medical personal - Dr Shields co-edited 
The Book of North Tawton,
 a rich resource for anyone who has connections to the parish, or indeed is researching its past. Many times since I've started to research for my book on Devon women writers, when looking up information about the parish and its history, but stumbling on a block, I've turned to the book shelves for
The 
Book ofNorth Tawton.
 Invariably, a fact, a new or overlooked detail will surface somewhere and I'll be off again. Down a new track of discovery. Some of the information which I'll use in this piece emerged in this way.       Dr Jean Shields, North Tawton's, local history researcher/writer will be sorely missed ... …  Here we're in the very centre of the beating red-heart of Devon, the farming centre of the county, whose distinctive earth, generated by the underlying red sandstone, explains the landscape's densely imprinted patterns of criss-crossing tracks, green-lanes, high-hedges and copses. This special territory lying within the remit of Devon's
nemetostatio
, in the heart of the land of once sacred groves, (See for example Blaen's book 
Devon's Sacred Grove
) whose gentle rolling hills front the distinctive dramatic grey-blue backdrop of moor, has already garnered a frisson of attention from archaeologists. But it's not only historians, and like-minded specialists who've remarked on the unusual interest of this landscape; it's also garnered attention, from creatives, such as noteworthy writers. Many who come about this blog and piece about North Tawton will know of the parish's links with the C20's most famous literary couple, Ted Hughes and Sylvia Plath, who lived in the centre of the area; both authors intuited their Devon homeland as cynosure of mysterious presence. Now, in the years since the poets' deaths, the vicinity in and around North Tawton has become focus of literary quests and pilgrimages, as those in search any hint of missing narrative connected with the literary pair trawl the local byways in search of a special symbolic token of their lived and textual pasts. It feels entirely appropriate that any researcher looking for missing threads of female literary lineage should begin here, within the boundaries of these distinctive lands lying just beneath and north of the county's most famous moorland slopes. After all, it was in this landscape that Nemetona/Diana, (See for Example
Trees of Anglo-Saxon England
) the Celtic goddess presided over the once sacred groves ...
Lane north of North Tawton on Bondleigh road Photo Julie Sampson            As a female poet/writer acclaimed internationally, who had close links with
NorthTawton, Sylvia Plath
stands alone. I have not found evidence of any other individual woman writer who was closely associated with the town (except of course our recently bemoaned contemporary researcher
Jean Shields
). But, as with so much of Devon's lost literary heritage concerning the contribution of its women, as the researcher turns the pages of archival references, or clicks through a series of linked google searches, there are many tantalising gaps, which often seem to almost touch on a snatch of lost information. Someone who may have written, or have had special interest in literary activities. A woman who was closely related to a learned man. A  figure, silhouetted, lurking in the shadows.         The further back we go, the more interesting things become.         Way back in the medieval period North Tawton emerges as a point of convergence for a cluster of royal or courtly celebrities, the notoriety of whose lives left distinctive marks on the pages of the distant future. The notion that the environment of a backwater mid Devon medieval town may have witnessed the shenanigans of medieval entanglements may seem unlikely and yet there are historical and other familial associations which, for me, are suggestive of such. For, from the time of the Domesday Book until at least C13/14, like its twin parish South Tawton a couple of miles away,
North Tawtonwas an ancient demesne of the crown
; its manorial lands were in the hands of the king. Its manors might have been held by people close to the monarch, either as family members, or closely associated with the court. There are at least couple of families whose associations with the parish are verified in its manorial histories and whose close and complicated interweavings leave a host of tantalising questions. Their various intrigues centred in or around the edges of the parish weave in and out of the labyrinth of Devon's female writers, occasional hinting at a smidgen of other lost female centred literary links. Not of course that one is going to stumble on a long lost woman writer. It is too long ago and archives have already provided names and texts for known woman writers of the C12/13 - such as, for instance, the mysterious
Marie de Meulan or Marie of France
(who may herself have had links with the southwest of England). It is a question of raising the possibility that certain identifiable women from this long ago time may have been well-educated and as such, been potential candidates for having taken an interest in literature, perhaps as readers, or patrons. It was common for noble women of the time to be cultured and to have literary inclinations.             For instance, given her close associations with people of high status,
Joan/Jeanne de Bath or Valletort,
 who was reportedly wife of
Ralph, or Reginald Valletort
, then of
Alexander Okeston
and the probable long-time concubine of
Richard Earl of Cornwall
(son of King John and brother of Henry III) and mother of several children by him, probably had literary skills.              Richard of Cornwall is said to have interceded on behalf of Joan's brother, the learned knight
Henry de Bath
, who became Chief Justice of England during the mid C13. The siblings were said to be children of Walter de Bath. When Henry, a judge during the reign of Henry III, fell into disgrace with the king, he was eventually restored following the Duke's intercession.             Interestingly, in the context of Devon woman writers, the C19 Tavistock author
Anna Eliza Bray
 placed Henry de Bath and his plight into the heart of one of her short stories. You can read the story,
Fontina, or The Pixies' Bath,
taken from
A Peep at thePixies.
 Although it is a fairy/pixie tale apparently based on folk-lore and legend, at the story's core is a background of considerable historical research. Bray must have read round her subject thoroughly; her texts can prove quite valuable for a modern researcher. On the other hand, her facts do need checking. The background of the life that she has provided for her 'hero'
Henry de Bath
may or may not be authentic.               As far as I'm aware there is no evidence to back my theory about his (alleged) sister Joan as a literary woman (and there is as yet no verification that she was definitely daughter of
Walter de Bathe
from North Tawton, although there is general agreement that seems to make this likely), but, given the ins and outs of her family and social associations, we can assume this enigmatic lady to have been highly cultured. It seems feasible that like her brother Joan would have been educated to a high level. The de Bath/Bathe/Bathonia men feature in Devon and the nation's canonical history books. For over many generations  they established reputations as intellectuals, judges, barristers, learned knights and antiquarians.             Richard Duke of Cornwall was himself a man of intellect and was widely read. What may be especially intriguing with regard to Joan de Bath/Valletort, is the context of the literary associated background apropos his creation of Tintagel Castle down in Cornwall. Here is an account provided by English Heritage: What attracted the earl to
Tintagel
was something else, something literary: a reference in a text written in the previous century, the History of the Kings of Britain, by the cleric Geoffrey of Monmouth. Tintagel plays a central role in Geoffrey's racy story of how an ancient king of Britain, Uther Pendragon, is driven mad with lust for Ygerna, the wife of one of his barons, Gorlois of Cornwall. Gorlois prudently removes his wife to an impregnable stronghold on the coast, the castle of Tintagel, but then rather less prudently withdraws to another fortress nearby. The pursuing Uther and his men inspect Ygerna's refuge and realise that no ordinary attack can succeed: The castle is built high above the sea, which surrounds it on all sides, and there is no way in except that offered by a narrow isthmus of rock. Three armed soldiers could hold it against you, even if you stood there with the whole kingdom of Britain at your side. At this point in the story, the 'prophet' Merlin proposes a supernatural remedy: by means of a magic potion, he transforms Uther into the exact likeness of Ygerna's absent husband. The ruse is entirely successful. The guards of Tintagel allow him into the castle, and Ygerna takes him into her bed: That night she conceived Arthur, the most famous of men, who subsequently won great renown by his outstanding bravery. If these were not literary credentials enough, Tintagel also features in a second legend, which confusingly later became part of the Arthurian cycle, but almost certainly had completely separate origins. This was the story of the adulterous love of Tristan and Isolt, the wife of King Mark of Cornwall, Tristan's uncle. Much more of the action in this late 12th-century story takes place at Tintagel, presented as the stronghold of King Mark. Earl Richard was a cultured and literary man who would have known these legends extremely well. The overwhelming likelihood is that he built the castle at Tintagel to recreate the scene from Geoffrey of Monmouth's story and, in so doing, write himself into the mythology of King Arthur. 
English Heritage
                        I can't help but imagine that, in his creation of
Tintagel
perhaps Richard, known as notorious womaniser, was influenced by his apparently long-standing liaison with Joan de Bath/Valletort. As far as I am aware, she is the only one of his woman concubines whose legacy has lasted as her name is documented and also she is the only one whose children by Richard are also named and recognised.             But not only was Richard a man of learning, so were the women who surrounded him. Both of his first and second wives are linked with literary pursuits.
Isabel Marshall
, Richard's first wife, Countess of Cornwall, and widow of
Gilbert de Clare
, plunges us right into the centre of the medieval female literary milieu 
Isobel Marshall's family
 were focus of literary connections and patronage centering round the well-known C13 chronicler
Matthew Paris,
who ran a kind of C12 circulating library amongst his aristocratic friends. These included Isobel's nieces, Countesses of Winchester and Arundell, who were daughters of her sisters Sibyl and Maud. Isobel may herself have been a recipient of books and manuscripts disseminated by Paris. The chronicler requests:  Please send to the Lady Countess of Arundell, Isabel, that she is to send you the book about St Thomas the Martyr and St Edward which I translated and illustrated and which the lady Countess of Cornwall may keep until Whitsuntide.             Isabel was mother in law of
Maud deLacy
who founded
Canonsleigh
, (which I've written about
elsewhere
), so there are familial links with the county of  Devon.             Isabel Marshall's successor, Richard Earl of Cornwall's second wife,
Sanchia of Provence,
sister of the culturally famed Eleanor, also seems to have received literary favours and 'borrowed' books from Matthew Paris. Her son by Richard,
Edmund of Cornwall,
married
Margaret de Clare
, who was the daughter of
Maud de Lacy
.          But, to return to Devon and North Tawton and the elusive Joan, Richard of Cornwall's alleged mistress. As so often happens, tracing the identity of a woman, even one of high birth, from these far off times, is a project fraught with complications. Not to be entered into lightly I have found, if you don't want to end up tearing out your hair! Although various sources refer to Joan as Richard's long-time mistress, there is by no definitive consensus about her identity. And there is still uncertainty about her family origins. Rather than marrying into the Valletort family, Joan de Bathe may have been born one of them. Or, indeed, she could have been born de Bathe and married a Valletort. Both of these are given as possible identities of the woman. Different pedigrees provide alternative family trees. And not only is their uncertainity as to Joan's authentic family origins, historians give us conflicted accounts about the timeline of Richard's and Joan's liaison.       For instance we are told in 
The House of Cornwall
 that by Joan, daughter of Sir Reginald de Valletort, he [Richard of Cornwall] had an illegitimate family, consisting of at least two sons,* Richard and Sir Walter, with apparently Sir Lawrence, and as is affirmed two daughters, Isabella and Joan. The date of this prolonged liaison cannot be determined. It was probably early in his career, but the evidence adduced by authorities is slender, and their statements contradictory. It seems, for example, uncertain as to whether Joan de Valletort was widow of Sir Alexander, or Sir Andrew, Okeston when she is said to have been mistress of Earl Richard, or whether after the Earl tired of her, she married Sir Alexander, to whom she bore a son and successor.             It is beyond the scope of this blog piece to trace and argue the various possibilities of Joan's birth family. I doubt anyone will ever be certain of Joan's parentage. Nor am I in any position to have an opinion as to which may be correct, but I am sure that if she was daughter of either of the families Valletort or de Bathe Joan was in some way closely linked with North Tawton. Both de Bathes and Valletorts had established home bases in the parish during the period of C13. And  serendipitously, taking us back full circle to the two women writers mentioned in this piece (Sylvia Plath and Jean Shields), the two sites were later to be each of their respective homes.             The site at de Bathe (
with its famous and mysterious pool
) was the home of Dr Shields. Traditionally, it is said to have once been the  'Great' estate of the de Bath family and is located on the periphery of the once
Roman site,
just south of  the town of North Tawton. Many sources claim that from a long line of Devon's male de Bath worthies, Walter de Bathe, Sheriff of Devon held the de Bathe estate at North Tawton (as well as that of nearby Colebrooke, Sheepwash and Topsham). It seems generally agreed that the North Tawton site had long been the family's chief residence (for instance, one of the Devon historians remarked that their residence there 'ran so very far back that he could not trace out and overtake the original thereof'. Quoted in 
The Gentlemen's Magazine
).                 We are told by historian Risdon that the
mound, which still survives in the grounds of Court Green
(now famous as the iconic home of Plath and Hughes), was once the mid Devon manor house of the
Valletorts
, the moat being still visible in the early 17th century.             Although Ralph (or
Reginald) de Valletort
, Joan de Bathe's (probable) first husband, does not seem to have been affiliated directly with North Tawton, it is hard to resist the picture of Ralph/Reginald meeting his young wife Joan (who may have lived along the tracks at de Bathe) at the home of his
Uncle Joel (Valletort)
just past the parish church. Many of Joel's predecessors had prestigious ancestry, as did those of his wife
Emma Botreaux,
daughter of
Isabella de Say
, 
Lady of Clun,
in Shropshire, a well known Anglo Norman heiress, and benefactor of monks, whose third marriage was to
William Botreaux of Boscastle
in Cornwall, Emma's father.             Joan de Bathe's liaison with the king's son apparently resulted in several illegitimate births. Although there are disagreements amongst academics concerning the identities of these offspring, it is generally agreed that the couple's daughter, also
Joan deCornwall, Heiress of Modbury
 (1258-1319), who was apparently brought up by her step father Alexander Okeston, married
Richard Champernoun I of Modbury.
As with so many of the families of this period the genealogical threads of the Valletorts are extraordinarily complicted. Anyone reading this who disagrees with my conclusions re lineages etc is welcome to challenge them! One of the many sources that has aided me is
Tudor Place 
, which supplies the following: Unlike the Modbury and Ilfracombe branches of the family, the Champernownes of North Tawton are a bit more difficult to place. Vivian(p. 160) calls Oliver the son of John Champernowne and grandson of Sir William Champernowne of Ilfracombe, who died in 1305. However, insofar as Sir William's son John was a cleric, it does not seem likely that he was Oliver's father. The 1422/3 IPM of Oliver's grandson, Otho Champernoun, is quite extensive, and being childless, and an only child himself, names a number of relatives as his heirs. Included among several aunts he names a cousin, Alexander, son of Richard Champernowne. It should be remembered that by this time the Champernownes of Ilfracombe had died out long before in their male issue and only the Modbury family was still flourishing. Oliver could be a younger brother of Sir Richard Champernowne of Modbury. He was already an adult by 1332 and was married to Eglina Valletort, a daughter and co-heiress of Hugh de Valletort of North Tawton. Her sister, Elizabeth, was the wife of Sir Richard Champernowne of Modbury. Whereas Richardwas not a name that appeared in the Ilfracombe family, it certainly does so in each generation of the Modbury line. As the brother and brother-in-law of a Richard Champernowne, Oliveralso named one of his sons Richard. The 1332 Devonshire Lay Subsidy assigns only property in North Tawton to Oliver Champernowne and this came to him through his marriage, thus there appears to be way to connect him to property he may have received from his father. Eglina Valletort survived her husband, as Sir Richard Stapleton held the advowson of the church of North Tawton of Eglina Champernon in Edward III's time (Pole's Devon:427). She was still living in 1346 (Feudal Aids, 1, p. 422).           It seems possible that Joan de Cornwall had two sons, who both married two Valletort sisters back in North Tawton: Richard Champernowne II married Elizabeth de Valletort whilst his brother Oliver Champernowne married the intriguingly named
Eglina (or Eulalia).
The sisters were daughters of Hugh de Valletort, direct descendant of Joel Valletort, and his wife Lucia de Brett. Egelina evidently survived her husband and was still living in 1346, during Edward III's time.  Joan Champernowne who was one of the Oliver and Eglina's daughters (perhaps named after her great aunt) married
Richard Atwood of nearbyAshridge,
and thus united these two families within the locations of their home sites.             So… even if Joan de Bath/Valletort (daughter of North Tawton) moved away from the mid Devon parish when she was married, through her daughter Joan she returned her descendants to settle, at least for a while, in her own place of birth.             Although it is not possible to surmise anything more about her taking into account the literary activities swirling around others of her female networks, Joan's de Bathe's own position in the midst of a learned medieval circle of aristocrats seems likely. She remains a tantalising enigma and also reminds me that the avid researcher out there who's looking for female contributions to the literature and culture of the past should listen more keenly to the silences in the archival repositories. Maybe the inexorable facts are lost for ever, but instead, it is possible, and valid to have a hunch and 'hear her', try to fill out some of the yawning gaps that confront us when we consider our lost heritage of literary pursuits involving women. North Tawton and its local environs may not only be honoured to be the home of an outstanding C20 poet, but also, long ago, may have nourished a few shadowy figures from the past who in their real-life were other important women of literary influence.
Thanks for reading. © Julie Sampson 2017 All Rights Reserved
>> Read More
Loading Twitter messages...